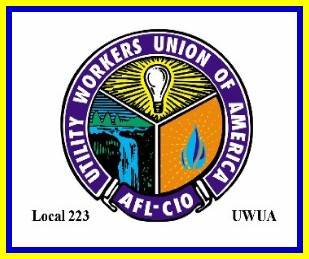 Utility Workers Union
Local 223
Stores Division
You are visitor Number
Stores Divisional Officers
John R. Holmes
..........................................................
Chairman
Steve Grzebyk
..........................................................
Vice Chairman
Ebony Robinson
..........................................................
Chief Steward
Danielle Cordvae
..........................................................
Recording Secretary
Keith Haney
..........................................................
Treasurer
Alan Ruzycki
....................................
Bargaining & Grievance Committee
Dorothy Powell
....................................
Bargaining & Grievance Committee
Thomas Richett
....................................
Bargaining & Grievance Committee
Randall Olson
....................................
Bargaining & Grievance Committee
Don Bounds
..........................................................
Safety Director
---
Stores Bargaining Unit Background
The Stores Bargaining Unit joined Local 223 on June 5th, 1953. The Bargaining Unit as of April 5th of 2022 has 103 members (9 jobs pending) who work in Primary Warehousing, Secondary Warehousing (Electric & Gas), Material Transportation, Investment Recovery and Power Plant Supply.
---

How to Receive TEXT & EMAIL Notifications from the Local Union

All 20 Stores Division Job Descriptions

History of Orgaized Labor - Past and Present


Click Here for Local 223 Links

Motor Transportation Division Links

Stores Division Steward Training Page - Updated 07/08/21

Stores Division Retirees Page - Updated 04/05/22
The Next General Membership Meeting will be Monday September 26th at 5:00 pm. It will be our 4th attempt at a live meeting at the Union Hall since the Pandemic has eased restrictions. As yet we have had nobody show up and have had no qourum for a meeting.
On Friday June 24th we are still scheduled for our much delayed Spring Safety Consortium begining at 10:00 am runing until 2:00 pm. Breakfast and lunch will be provided. The theme of this Consortium will be fork lift safety. We like to have at least one of the two Safety Consortiums each year on fork lift safety as it is the single most important piece of equipment we use in our jobs on a daily basis.
All Stores Division General Membership Meetings will be on the
4th Monday of every other month unless otherwise indicated.


---
This page designed and updated by J.R. Holmes
---