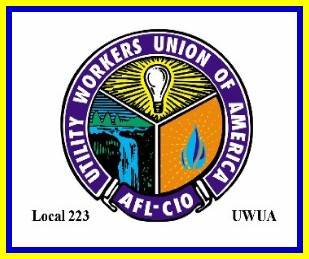 Utility Workers Union
Local 223
Stores Division
You are visitor Number
Stores Divisional Officers
John R. Holmes
..........................................................
Chairman
Steve Grzebyk
..........................................................
Vice Chairman
Ebony Robinson
..........................................................
Chief Steward
Danielle Cordvae
..........................................................
Recording Secretary
Keith Haney
..........................................................
Treasurer
Alan Ruzycki
....................................
Bargaining & Grievance Committee
Dorothy Powell
....................................
Bargaining & Grievance Committee
Thomas Richett
....................................
Bargaining & Grievance Committee
Randall Olson
....................................
Bargaining & Grievance Committee
Don Bounds
..........................................................
Safety Director
---
Stores Bargaining Unit Background
The Stores Bargaining Unit joined Local 223 on June 5th, 1953. The Bargaining Unit as of April 5th of 2022 has 103 members (9 jobs pending) who work in Primary Warehousing, Secondary Warehousing (Electric & Gas), Material Transportation, Investment Recovery and Power Plant Supply.
---

Local 223 Collective Bargaining Agreement 2021-2027


How to Receive TEXT & EMAIL Notifications from the Local Union


All 20 Stores Division Job Descriptions


History of Organized Labor - Past and Present


Click Here for Local 223 Links

Motor Transportation Division Links

Stores Division Steward Training Page - Updated 07/08/21

Stores Division Retirees Page - Updated 08/10/22
The General Membership Meeting scheduled for Monday March 27th at 4:30 pm has been rescheduled due to DTE Storm #4 and its effects on our bargaining unit. We will be rescheduling thsi meeting some time in April. We hope to have a quorum. Since we resumed live membership meetings at the Union Hall we have only had two meetings with a quorum. the last one being November of 2022.
Last December we were able to reach an agreement on the 7-11 reductions at Trenton Channel and River Rouge Power Plants. It was not what we expected or what we originally agreed with management on but it was better than it could have been. We feel the MPSC rate case that didnt go DTE Energy's way was a big part of their descion to make a drastic change in the agreement we believed we had.
We are now expecting to get notification on the St Clair Power Plant 7-11 sometime in April. Because we essentually only have 2 folks considered St Clair employees this 7-11 should not be as difficult as the last one but we are fairly certain that one leader will be bumped out of their position and that is really a bad situation.
All Stores Division General Membership Meetings will be on the
4th Monday of every other month unless otherwise indicated.


---
This page designed and updated by J.R. Holmes
---